Yoga and climbing injuries
Nope, I don't levitate to reach the top of my route! I just can't climb at all since my elbow received a "bullet-shot" pain that could not be ignored any longer. That was 3 month ago….The hard truth of the so-feared tennis elbow!!!! Hummm, as a daily yoga & meditation practitioner, you'd thought I would surrender to the situation or let go and be relaxed about the present! Ouch… NO! I am really getting frustrated especially when I go to visit my parents near Buoux, St Leger and this endless crags area! Mind you, living in London has helped a little as indoor climbing has never been my cup of tea either; but Thailand in March and Kalymnos in April and I might not be climbing at all! #Buddhabea, #zenattitude, #letgo…I want my body back and being able to use it again without crunching my teeth every time I pick my Nespresso cup….So what else is there for me to do apart from factually wait until it goes? Here is what I do when I reach that red level of frustration state: I pull my yoga mat out and I practise a sequence that will serve me when I return on the crag: coordination, balance, weight shifting, cores, flexibility, breathing control and visualisation…  and below is a flow I do after warming-up and before going into deeper stretches that has served my climbing injury recovery  (also great for wrist or shoulders injuries):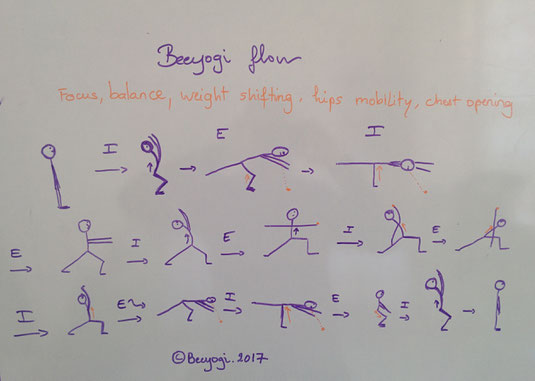 Yoga is a great way for me to "rest" (when forced) in an intelligent and efficient way but also to recuperate quicker after climbing and it has helped me improve my mental abilities to climb and responding better to stressful climbing situations. I find it to be a backpack full of precious tools and have shared those for the past 5 years now, teaching climbers in Kalymnos (soon again in April), Thailand, London(at climbing gyms) and recently at the Leonidio climbing Festival.
Keep tuned as will post a 15-minute guided meditation to deeply relax muscles after a climbing session.
Beeyogi #passionateclimbertoo…
Beatrice has been teaching yoga and meditation since 2012. She runs yoga and climbing holidays in Greece in April and Sept. 2017. For more details about the yoga & climbing holidays, click HERE