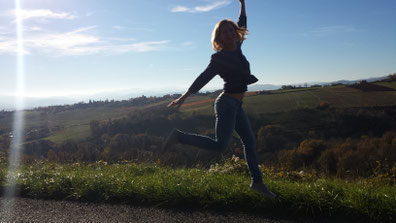 1st of January: we all take some resolutions to improve our lives, to get healthier, fitter, drink less, less stress, spend more time with friends and family, quit smoking, go to the gym, stop gossiping, cut mobile time….our wishes list can be quite endless, abrupt and quickly become stressful or just forgotten… In a society where instant gratification has become the normal trend, how do we really implement those changes that we are craving for and that really would do us good?
 Step-by-step, with patience, without adding stress…. Well, easy said…
FACTS: Don't be fooled, drastic solutions don't work: have you ever tried a 10- day drastic diet and lost all the weight and fat you wanted without feeling tired, frustrated and stressed? Subscribing to a gym in January with the intention to go every day and 1- either had gone every day for the first 5 days! or 2- got an injury after the 1 week and be advised to stop for a few weeks?
Set objectives, a deadline and be realistic!
All those changes take time to be "DE-wired" from our brain as the pattern has been there for years or at least is fully appreciated by our little brain. The only time I found that I could cut on something abruptly was when I had a "too-much-at-once" event. Too much wine and my body would literally reject it for a few weeks. I call this the "abrupt effect". Not the most pleasant but quite effective indeed!
Get healthier by equilibrium. Extreme are never good, balance is great and although benefits will come along in a slower pace, it will settle itself and last for much more longer.
The "get healthier" resolution: choose the activity that YOU like. This is paramount. I tried going swimming as was injured but I really find it boring! So I went a few times and then funnily enough always had a good excuse not to go! Bingo, challenged missed, feeling frustrating and not happy with myself! There is so much sports or activities to choose from. Make it fun to do and easy to start and go to.
If you haven't practised in a long time, start slow. This is tricky and difficult. I stopped climbing for 6 months and started again…3 times a weeks… and after 2 weeks, got a massive tendinitis in my elbow: haven't climbed now in 3 months!.… can you feel the frustration? But hey, I used to climb 5 times a week without any injuries… REALITY: age and past is past, not quite fit again yet.
The "eating healthier" resolution: OK, so this is a tricky one but I must admit that health comes from a healthy diet. I feel extremely lucky since I like cooking and love the natural taste of food. I always make time to cook, so I am pretty quick and used to it. I take time to have breakfast but my partner doesn't and would spend way much more time in the shower instead. It's all about priorities and preferences really. I love food so much that there is no way I would skip a meal. I eat natural products (vs processed or canned) and trust me, my budget stays low. Changing eating habits are very very difficult. So you need to be really committed to do it and learn new ways to cook or enjoy things that you wouldn't have thoughts of before. I treat it like an addiction (and it is actually). Nowadays, I am trying to reduce my coffee intake and it is really difficult. I love coffee but I drink too much of it and I feel its effects on my body. Self-indulgence: why do I do this to me? Well, step-by-step, I reduce its quantity. I take a moment to reflect on why and if I really need it. This is the step I call " the mindfulness awakening"! I have stopped smoking thanks to becoming more "connected" or conscious of myself and drastically reduced "quick fixes" like foods, alcohol, shopping and even medicines…(or at least, I am conscious of it when doing it for no other purpose than fixing a down time!).
And yes, Yoga and meditation were and still are the main players in my "awakening transformation new self"!
So what were your 2018 resolutions? Did you manage to stick with them? Do you even remember them? No really, is there something you would really liked to achieve this year? Maybe a much more heartfelt desire?
Still January, still time to wish for some changes in your life and bring them into action. 
Wishing you a wonderful 2018, filled with new adventures, travels, friends, connections and more laughs and smiles… J
 Bea